Some sellers offer you the choice to bid or Buy It Now. Other sellers may only offer the Buy It Now option. With Buy It Now, you have a special opportunity to purchase the vehicle immediately without waiting for an online auction to end.

If available, click the Buy It Now button at the bottom of the vehicle listing. In some cases, a seller may require immediate payment or deposit with PayPal. In this case, it is important to complete your purchase right away, as the vehicle will remain available for purchase until your payment transaction has been confirmed.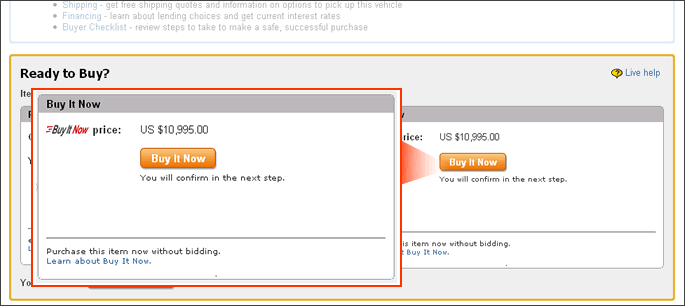 If the seller offers both the bid and Buy It Now options, the Buy It Now options will be automatically removed if the bidding goes above a certain point. This means you will need to act quickly or you may lose the option to Buy It Now!

Note: When you use the Buy It Now option, you are entering into a contract with your seller. Make sure that you want the vehicle before you bid or buy.

---