eBay Motors offers tools and resources – from pricing information to photos to reviews – to help you decide on the best vehicle for you and to buy the vehicle. Not only can you research the vehicle, you can also learn more about the seller and available purchase protection programs, to make sure your purchase will be safe and secure.

In addition to the vehicle research information that is available for each listing, eBay Motors also provides a Research hub where you can find additional information on pricing, financing, shipping and more. It's a great place to start. You can find the Research hub at the top of every eBay Motors page.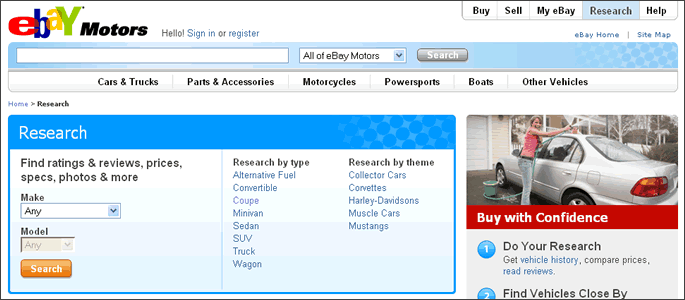 Once you have decided on a vehicle, review the Buyer Checklist tab on the vehicle listing page. This interactive checklist will guide you through the steps needed to buy the vehicle. To keep track of the steps you've completed, just sign in and select each box you've completed. Your checklist will be saved and you can revisit it later by adding the vehicle to your Watched Items list.

---