If for some reason your vehicle did not sell, you can make a Second Chance Offer to one or more of your bidders or take advantage of the free Relist policy on eBay.


Utilize a Second Chance Offer


Even if the auction closes unsuccessfully, you can make a Second Chance Offer to one or more of your bidders. A Second Chance Offer allows you to contact the bidders on your ended listing with a lower offered price on the vehicle. You and the buyer can agree on any price that you want, but your automated offer must be lower than your previous reserve price.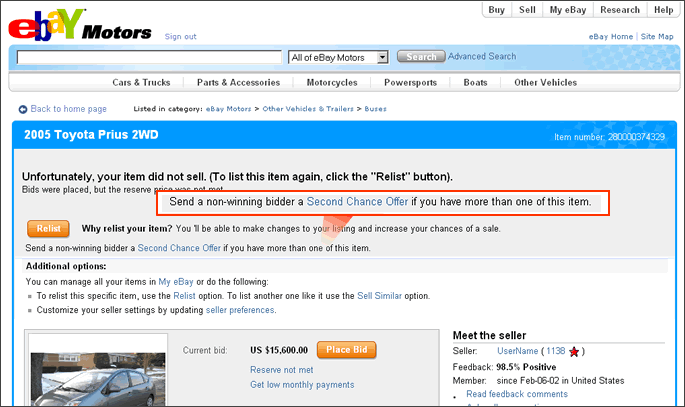 Sellers can send a Second Chance Offer from any of these pages:
Bid History page: Go to your closed listing and then click the "Bid History" link.
My eBay page: In the Items I've Sold section, click the Action menu and select "Send a Second Chance Offer."
Item page for a closed listing: Sign in with your User ID and then click the link for the Second Chance Listing tool.

Note: The "Second Chance Offer" link is only available for closed listings with at least one non-winning bidder.


Relist Your Vehicle


You can always relist your vehicle by clicking the Relist Item button on the bottom-left corner of your item page. You will be credited the Insertion Fee if your vehicle sells.

Normally, Insertion Fees are non-refundable. However, if your listing ends without a winning buyer or results in an unpaid item (UPI), you may qualify for a credit by relisting the item. If the item sells the second time, eBay will refund the Insertion Fee for the relisting. Learn more about relisting your vehicle.

---
Previous
|
Next