Once your listing is active, you should build a relationship with potential buyers by email or phone. This will strongly increase your chances of arriving at a successful sale.


Be Accessible to Potential Buyers


Make sure that your phone number and email address on your eBay account is accurate. The serious buyer will be more likely to engage in business with you if you are open and responsive to questions and concerns in a timely manner - both during the listing period and after the purchase when transactional details are being resolved. You may want to consider adding your telephone number to your item description in order to further facilitate communication. This can also add to the buyer's sense of trust in a seller. eBay buyers expect customer service from the sellers, and that's what drives the feedback score. "Great communication!" is a common feedback comment. Be sure to schedule time every day to check your listings and look for emails containing questions about the vehicle.


Reach Out to Potential Buyers


If you have questions about a potential buyer's feedback rating or bidding activity, you should contact the buyer directly. It's likely that the potential buyer has questions regarding the vehicle or the terms of sale and will appreciate that you initiated communication. The best sellers talk to every serious buyer. This results in a higher level of buyer trust, more bids, and an increase in final sales, because communication problems are avoided that might have resulted in an unpaid item.


Manage Listings Using My eBay


One of the best ways to track your listings is by using My eBay - a central place where you can manage all your eBay activities. You can click "My eBay" at the top of almost any page on eBay Motors. Next, select the Selling tab to track the current price of your listings and the number of bids that you have received. You can use My eBay to lower your reserve or Buy It Now price.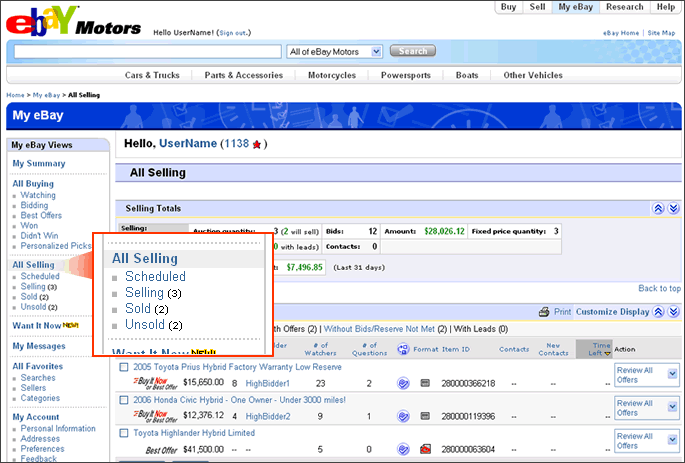 When you have received bids, you can contact bidders by accessing your listing, and then viewing the bid history.


Use the Bid History Page


The Bid History page is your source for contacting bidders. You can access the Bid History page by clicking the link in the History section on your vehicle listing.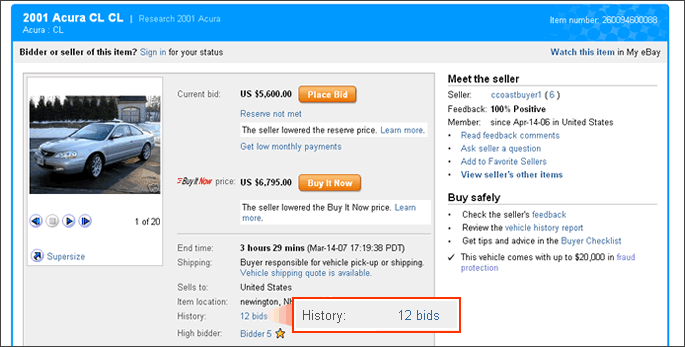 Request Member's Contact Info


You can also request more contact information about the bidders by using the Find Contact Information search option.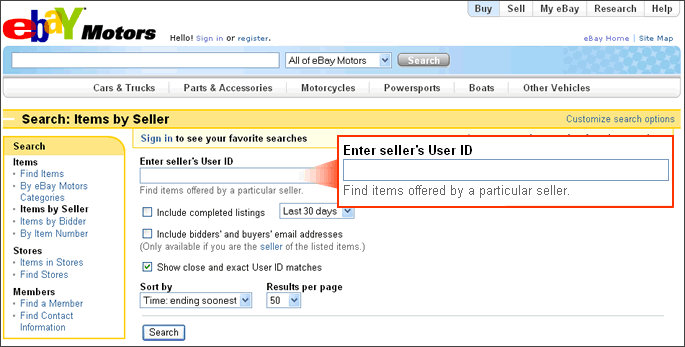 This member information is provided by eBay with the intention of better facilitating a specific transaction between members and must be used in accordance with eBay's Privacy Policy. This tool is not intended for the harvesting of information or for any other purpose, such as facilitating future transactions, or disseminating unsolicited email campaigns. Misuse of the tool is considered a serious infraction and may result in permanent suspension from the eBay Web site.

---