You are now ready to create your eBay Motor's listing. Use the Sell Your Item form to get started.




If you did not already complete the Sell Your Vehicle Checklist, you should do so now before you continue to create your eBay Motor's listing. The information on this checklist will help you create your listing.

You will be asked to provide a Vehicle Identification Number (VIN) when you complete the Sell Your Item form. Entering a VIN allows eBay to pre-populate your listing with information that is specific to your vehicle. This results in a more robust listing.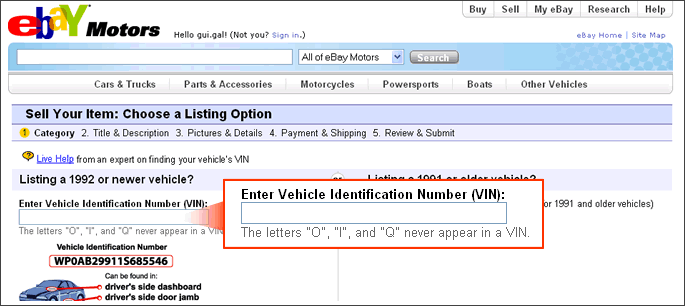 It is important to be completely honest in your description as this builds buyer trust and may help you sell at a higher price. Be professional, thorough, and clear.

A good description includes:
Make, model, sub model, and year
Example: "You are bidding on a 2002 BMW 328is."


Engine type and transmission
Example: "2.8 liter 6-cylinder with manual transmission"


Vehicle condition for the interior, exterior, and engine
Examples:

"The paint has faded on the hood and roof."
"This is a non-smoker vehicle."
"My mechanic recommends replacing the shocks and struts."



Options and option packages
Example: "Sport package including sunroof, leather seats, sport wheels, and traction control."


Interior and comfort features
Example: "Leather seats with power adjustments"


Any notable additions or modifications to the vehicle
Example: "I added 18" custom wheels in 1998 including a new set of snow tires. I also disabled the alarm."


Ownership history
Example: "I am the original owner and bought the car from Seaside BMW in 1997."


Maintenance records, if any
Example: "I have all records of service from my ownership and the previous owner."


Recent service
Example: "The car has new tires and a new clutch installed less than 2 months ago."


Warranty coverage
Example: "The car is still protected by a powertrain warranty that has one year left of coverage."
---